The lens is protected and UV light is cut off, thus preventing a distant landscape from appearing bluish. UV protective filters are suitable for those who frequently photograph landscapes.
These filters are affordably priced, but they have multiple coats on both sides to achieve a filter transparency of approximately 98%. The MC series consists of basic lens-protection filters such as Protector, UV and 1B Skylight. Despite their reasonable prices, MC filters use quality materials for the glass and filter frame so that reflection on the lens isn't interfered with.
Kenko AIR Multi Coated UV Filter
Designed to be ultra thin / Super Silm and Protecting a lens while not affecting the original colors and focus.
High Performance Multi Coating more effective in reducing reflection
You can get clear image with hight transmittance
This UV filter is a useful tool to minimize the affection of Ultraviolet Rays.
Characteristics Curve of MU-UV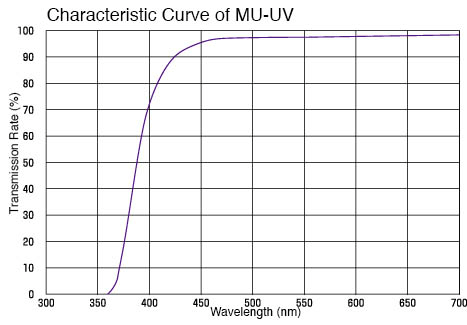 This product has yet to be reviewed
To be the first to review this product simply fill out the form to the left and let us know how you feel about this product!
---
To estimate the freight on this item simply enter the destination postcode and the desired quantity and click the "estimate" button.